Tennis Court Landscape Designing: Tips for Creating a Beautiful and Functional Space
Having a tennis court on your property is a wonderful thing. But sometimes, they can feel disconnected and isolated from the main home. If this happens, you'll need great landscaping ideas to tie everything together.
Here we'll look at how you can beautifully incorporate the court into the landscape, or even hide it away. By the end, you should be left with some great ideas. Let's get started!
Benefits of Landscape Designing
You may be wondering whether or not you should bother with landscaping, but there are some great reasons to do so. One is that it will increase your property value by improving the aesthetic of your court. By connecting it to your home and the surrounding area, it'll look like a much warmer and more inviting space.
Landscaping can also be a vital source of environmental control. Without proper runoff control, water can cause havoc in the surrounding area. Proper landscaping will help to prevent this runoff and reduce any erosion.
Finally, landscaping can help to give your court some much-needed shade while also improving air quality. This will make for a much more pleasant sporting experience while also having the benefits of being surrounded by nature.
Tennis Court Landscape Design Ideas
Now you know why landscaping is such a good idea, let's take a look at some design inspiration.
Plant Some Large Bushes
When it comes to tennis courts, you can either show them off or hide them away. Large hedges can be a great way to add greenery to your garden while blocking off anything you don't want to see.
This can be a great option if the court's aesthetic doesn't fit in with the rest of the garden. Doing this can also give the court some privacy while reducing the effects of wind and blocking out some noise.
For those that don't want to be continually trying to fish tennis balls out of bushes, it will be easy to apply some netting or install a fence. With this, your tennis court can become a secluded paradise.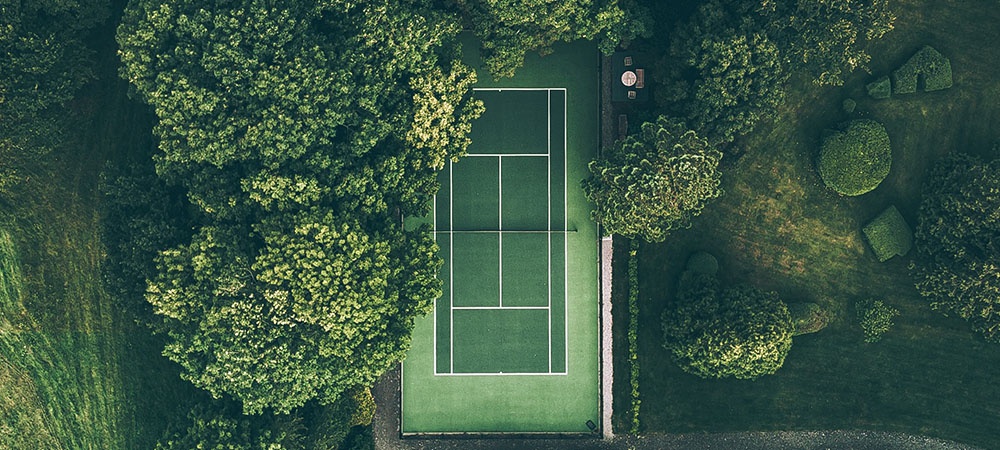 Create Green Pathways
If you don't want to hide the court, you can add plenty of greenery to make it come alive. Instead of trying to hide the court away, you can connect it to the rest of the garden with a series of small plants and flowers.
To do this, it's a great idea to plant around the entire circumference of the court. You can then create a pathway to it, which is lined by foliage in the same way. This will instantly improve the aesthetic of your court.
You don't want to plant anything that sheds its leaves too easily, nor do you want to plant anything with significant roots. Both of these can cause issues for the court and increase the frequency of maintenance requirements.
Change Your Court Color
It can feel like you need to change the landscape to fit in with the court, but you can do it the other way. You can change the court to fit in with the landscape. The way to do this is by changing the colour of the court.
For example, you may have a blue or bright red court that looks jarring compared to the surroundings. Thankfully, you can change this. Courts will require resurfacing every now and again, so why not do it in another colour?
For example, you can change that bright tennis court into a more natural green or brown. This means it will connect better with the landscape without radical changes.
Fun Poolside Complex
As we've mentioned, a tennis court on its own can look lonely and isolated. Having a pool connected next to it can make it feel as though you have an entire leisure complex in your backyard. You may even want to have a pool overlooking your court so spectators can enjoy the sport in the most relaxing way!
You can either separate these by green areas or have them closely connected. Instead of looking like an odd part of your landscape, you can transform your tennis court into an amazing garden of sports and leisure.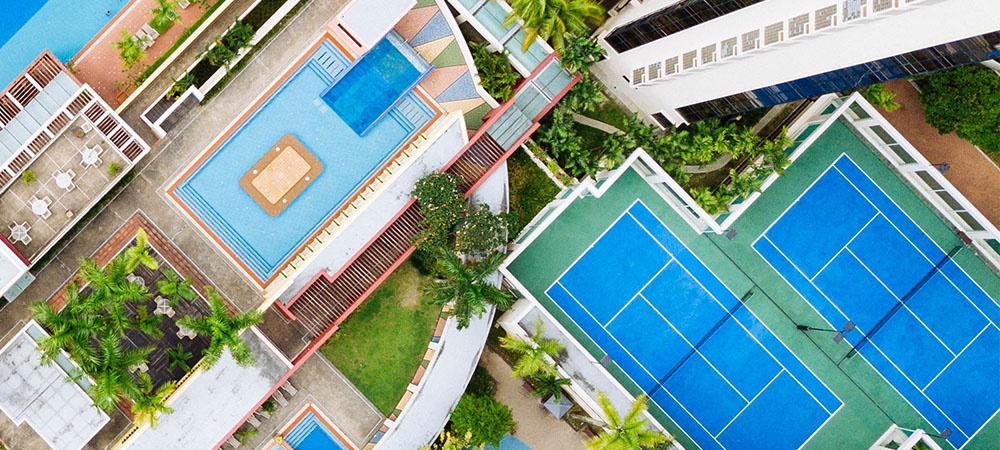 A Sunken Court of Wonder
A perfect way to incorporate a tennis court into an outdoor space is to have it sunken into the environment. This not only hides it away a little but can also add to the sense of wonder when stepping down into your court as if you're stepping into an arena.
Do you already have your court built? If so, you can still give the appearance as if it's sunken. For example, you can have raised flower beds around your court, which you need to step through to start playing tennis. It looks great and adds a wonderful functional flow to your property.
Create a Sports Arena
If you love tennis, why not go even further and create a whole sporting arena? Is your court a little isolated? Why not give it some sporting friends, such as an artificial putting green, a basketball half-court, or a mini football pitch?
You can break up these areas by planting trees to give some protection from the environment, and shade, and to break up the view. If you have a big enough area, you can even set this apart from the main house, for example, by having a line of large trees or bushes.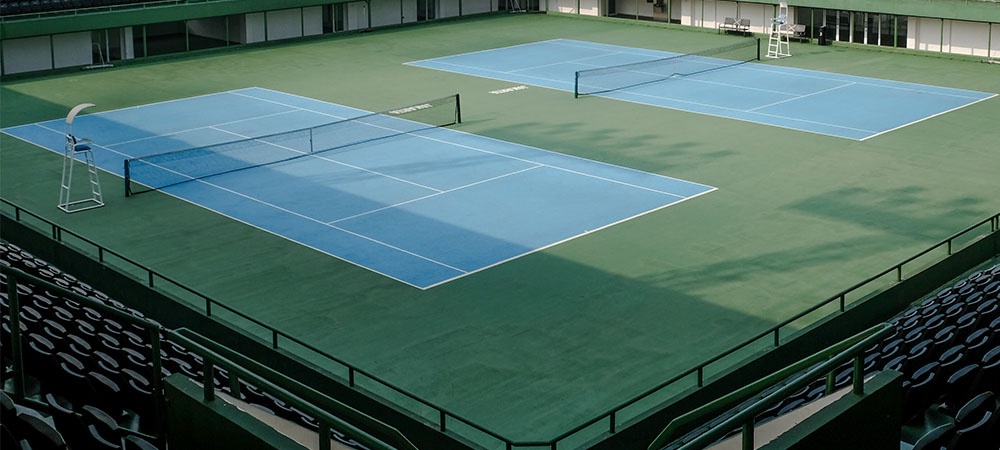 Add an Elegant Pavilion
Building a pavilion is another elegant way of giving your tennis court more warmth. Tennis court pavilions can be simple structures that offer protection from the rain or sun or more complex annexes with interior rooms.
Whether large or small, you can use them to connect to your home and the surrounding environment. For example, you can utilize hanging baskets, shrubbery, or rockery to have a beautiful flow of nature in and around the court.
Final Thoughts
There are many ways to make your tennis court more connected to the landscape. Whether it's something simple such as creating green pathways or something more dramatic, all you need to do now is start bringing your landscaping design ideas to life!