How Much Does It Cost to Build a Tennis Court in Toronto: A Comparison of Prices and Options
Are you dreaming about building a tennis court? If so, you're probably wondering about the potential costs. Of course, it can be expensive, but for those tennis lovers out there, it can be a worthwhile investment.
The cost of building a tennis court in Toronto is going to depend on several factors, mainly what type of surface you want and the extras you need. Here we'll look at that in more detail so you can get a great idea of exactly what your costs will be.
Cost to Build a Tennis Court in Toronto
For the construction of a tennis court, you can expect to pay a minimum of $25,000 regardless of what type of court you have. That is for the construction and surfacing work required, including the labour costs for the project.
Depending on the court surface and the optional extras you have, such as lighting, those costs can rise to well over $100,000. Here's a quick breakdown of the approximate cost range for each type of tennis court.
| | | |
| --- | --- | --- |
| Surface | Minimum Cost | Maximum Cost |
| Artificial Grass | $25,000 | $85,000 |
| Clay | $30,000 | $100,000 |
| Asphalt | $30,000 | $110,000 |
| Grass | $30,000 | $120,000 |
| Concrete | $35,000 | $130,000 |
| Acrylic | $40,000 | $130,000 |

As you can see, these ranges are very wide as many different factors go into the cost. If you're wondering what type of court you should choose, then here's a quick guide to help you.
Artificial Grass – Do you like the look and feel of real grass but don't want to put up with the daily maintenance? If so, artificial grass will be not only the best option but also the cheapest. However, the surface is one of the least durable.
Clay – Clay surfaces are relatively easy to put down, which is why they are one of the cheapest. They are also easier on the joints and aren't as quick as other courts. Maintenance is fairly high, but repairs are often not very expensive.
Asphalt – For those worried about maintenance, asphalt is a great option. It'll take many years of abuse before breaking up. They play fast and aren't as expensive as other types of hard courts.
Grass – Perhaps the most beautiful and traditional surface, but also a maintenance nightmare. Unless you want to be caring for your court every day, it's best to avoid this. However, if you're not worried about maintenance, you'll love having a grass court.
Concrete – We praised the durability of asphalt, but concrete takes it to the next level. Hardly any maintenance is ever required, and repairs aren't too costly. It can be expensive to install, but the cost of ongoing maintenance is lower than with other courts.
Acrylic – These courts will either have an asphalt or concrete base, with acrylic resin over the top. It makes them highly durable, and you can also pick any colour you want, allowing for more individuality. These extra steps make them the most expensive option.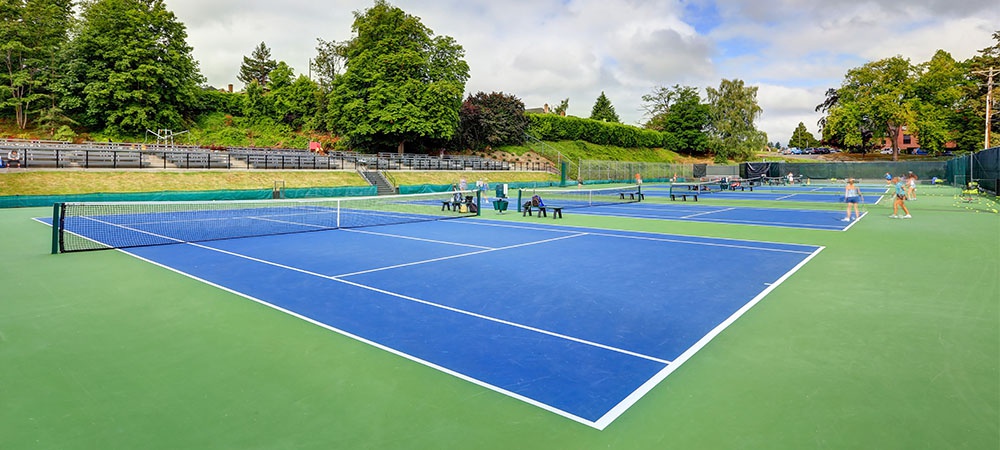 Breakdown of Tennis Court Costs
We appreciate that the ranges above don't give you much of an idea of the specific cost you're going to be paying. Let's break down those costs into essential work, recommended work, and optional extras.
Essential
Construction – This includes all the groundwork of creating the area of your tennis court and developing the subsurface. This will need specialist equipment and a lot of labour. Therefore, it's the highest cost of $20,000 to $50,000.
Surfacing – Once the base is in place, it will need to be surfaced with whatever option you choose. Costs range here from approximately $5,000 to $20,000 depending on the type, and other factors such as the company you're working with.
Painting – Of course, your court then needs to be painted. The cost of this will only be around $500 to put the finishing touches on your court. Once you have these three things, you can start playing if you buy your own net, but you'll probably want a few other things installed.
Recommended
Tennis nets – You could buy your own net, but it doesn't make much sense if you're paying for the rest of the court. Get a professional court installed, which should cost about $1,500.
Fence – Do you want to keep running after tennis balls when they go out of play? Probably not. You'll want to have a fence installed at the cost of $4,000 to $15,000. For a cheaper option, you can install a net or backboard.
Optional
Canopy or Bubble – Do you live in a rainy area? If so, you may want to consider a canopy or bubble over your court. The cost of this can be around $10,000 for a temporary lightweight structure but over $100,000 for something more permanent.
Lighting – Want to play in the dark? You'll need proper lighting put in place. This will set you back $5,000 to $10,000, but it can be even more for a high-end professional set-up. It's a great idea, especially for those colder months.
Extras – Do you want a storage area for your tennis gear? There are also the likes of benches and umpire's chairs to think about. These little costs can add up but won't be too expensive.
Example of Costs
Let's work through those figures with an example. Let's say you want to install a concrete court on your property. You find a company that will do the construction work for $30,000, and the surfacing work for $15,000.
You have the net installed, and the court painted at the cost of $2,000, and you get a fairly basic fence installed for $6,000. On top of this, you want a basic lighting system so you can play at night and pay the same for this, $6,000.
| | |
| --- | --- |
| Construction | $30,000 |
| Surfacing | $15,000 |
| Net | $1,500 |
| Painting | $500 |
| Fence | $6,000 |
| Lighting | $6,000 |
| Total | $59,000 |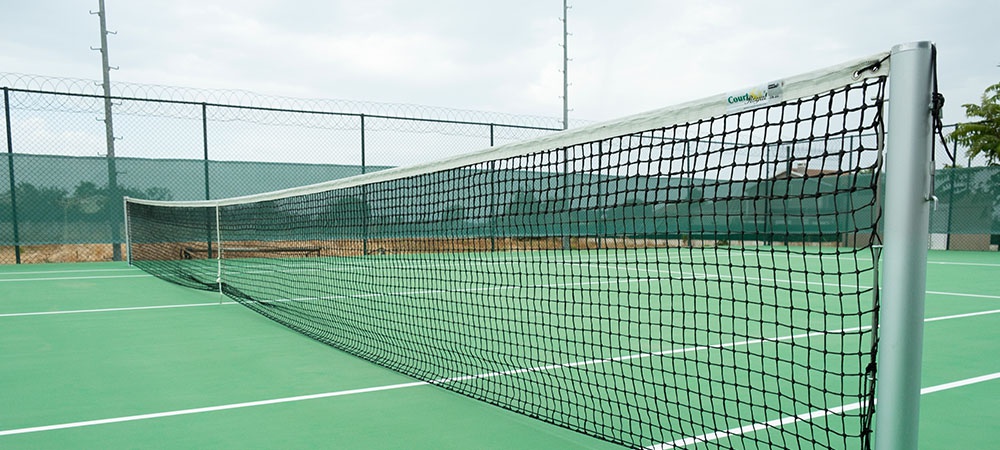 How Much Does It Cost to Install a Tennis Court Yourself?
You can probably halve your costs if you want to install the court yourself. A lot of labour is required to create a tennis court, and therefore it takes up a significant portion of the costs.
However, we'd never recommend installing the court on your own. Specialist knowledge and specialist equipment are required to get the job done. Unless you're an expert in tennis court construction, you'll most likely end up with substandard results.