Transforming Fun and Safety: Playground Surface Installation in Burlington
At the core of every community is playground installation, giving children an outlet to explore, learn, and ultimately have fun while being safe at play. Ensuring safety and enjoyment for young Burlington children should always come first when selecting an appropriate playground surface.
Different types of playground surface installation range from poured-in-place rubber to synthetic turf and rubber mulch. Not only are these surface installations safe for kids, but they are also easy to customize and maintain.
This blog will explore Burlington's best playground surface installation in-depth, with particular attention paid to an industry leader – Crowall. We also discuss the challenges involved in playground installation.
How Crowall's Makes Playgrounds in Burlington Safe for Kids
Crowall goes beyond simply installing playground surfaces; we collaborate with communities to promote safer and more enjoyable living conditions. You can see our commitment to excellence and safety in each project they undertake.
Crowall is dedicated to creating an environment conducive to outdoor play, physical activity and community cohesion. By making playgrounds safer and more attractive, we make significant strides toward improving Burlington's quality of life.
Expanding on the topic, let's delve further into the specific types of playground surfaces Crowall offers in Burlington,
Poured-in-place rubber (PIP) Systems provide a solution to rubber pipe replacement.
Poured-in-place rubber playground surfaces in Burlington are becoming an increasingly popular option. You can create this surface by mixing rubber granules with binding agents and pouring it directly onto the playground area, offering multiple advantages:
Safety: PIP surfaces offer outstanding shock absorption, helping reduce fall injuries. Furthermore, they comply with stringent safety standards, making them perfect for children of all ages.
Durability: These surfaces can withstand heavy foot traffic, extreme weather conditions and daily usage to provide years of safe play experiences. This durability ensures that playgrounds remain functional for years.
Customization: PIP surfaces come in an assortment of colours and designs. Its easy customization gives Burlington communities many choices when personalizing their parks' aesthetic. It also allows for creating patterns to spark children's creativity.
Synthetic Turf
Artificial turf has quickly become the go-to playground surface in Burlington due to its low maintenance needs and natural look. Here's why this option appeals so strongly,
Natural Look: Synthetic grass mimics the look of natural grass for an inviting and aesthetic playground environment.
Low Maintenance: Synthetic turf requires minimal upkeep compared to natural grass, eliminating the need for regular mowing, fertilization, and watering. Being low-maintenance makes it an economical and cost-efficient choice.
All-Weather Play: Burlington's climate can be unpredictable, yet synthetic turf provides all-weather play throughout the year. Rain drains quickly off, and you can still use it even when conditions are damp.
Rubber Mulch
Rubber mulch is an eco-friendly, cost-effective choice for playground surfaces constructed from recycled rubber waste. It offers several advantages such as the following,
Environmentally friendly: By recycling used tires into rubber mulch, Burlington residents are helping reduce waste.
Shock Absorption: Our material offers excellent shock absorption properties, making it suitable for playgrounds with equipment such as swings and slides.
Low Maintenance: Rubber mulch requires little to no maintenance for Burlington playgrounds, making it an attractive low-upkeep solution.
Related Article: How To Choose The Right Tennis Court For Kids?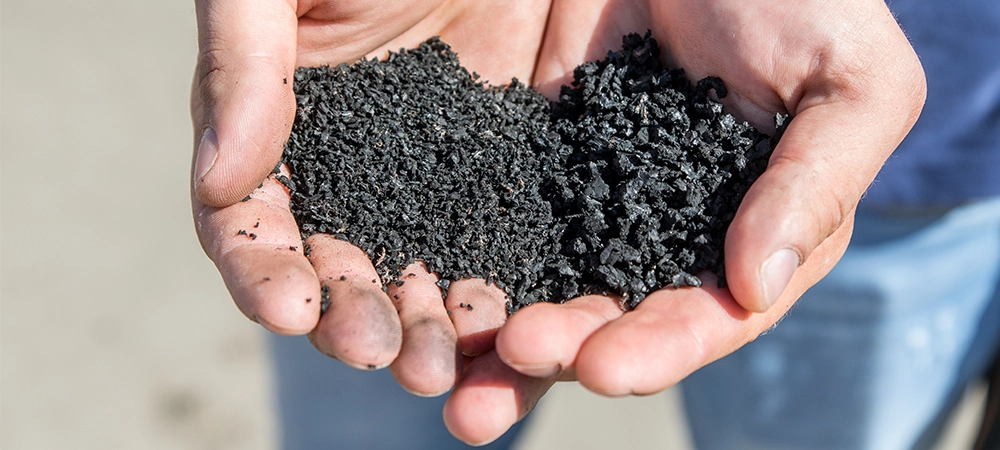 Playground Surface Installation Challenges
Playgrounds provide children with an exciting playground experience while helping to build essential life skills. However, playgrounds may pose safety concerns due to falls and injuries. Therefore, you must select the surface appropriately.
Quality surfaces give children a soft landing when falling and create an enjoyable, safe play area. In Burlington, with its constantly shifting seasons, durability and weather resistance play an especially vital role.
Interestingly, Crowall is widely recognized for its expertise in playground surface installation, and every project we undertake demonstrates this success. Here's how Crowall services make an impactful difference
Safety first
Crowall prioritizes safety in their playground surfaces, ensuring your children's protection in case of falls and that parents and caregivers can rest easy knowing their children can play safely.
Weather-Resistant Solutions
Burlington experiences various climate conditions, from scorching summer days to harsh winter temperatures. Its unpredictable weather makes Crowall playground surfaces suitable for these extreme conditions. They provide consistent protection and performance all year long.
Customization
Crowall offers an assortment of surface options to meet the unique needs of each playground. Choose from poured-in-place rubber, synthetic turf or rubber mulch. They all blend seamlessly with their aesthetics to provide safe yet seamless playground surfaces.
Environmental Responsibility
Crowall is committed to environmental responsibility. Our eco-friendly products utilize recycled materials wherever possible, in keeping with Burlington's eco-conscious values.
Expert Installation
Crowall's professional playground surface installation ensures every playground meets the highest standards. Our experienced team oversees every step, from site preparation through final surface installation, with meticulous precision.
Impact on Burlington Community
Installing a safe and quality playground for kids can tremendously positively affect the Burlington community. Here's how Crowall has proven its worth here in numerous ways,
Environmental Responsibility in Burlington
As Burlington residents are known for their commitment to sustainability, Crowall must highlight its eco-friendly initiatives. Crowall sources environmentally responsible materials like recycled rubber for its playground surfaces. These eco-friendly materials fit Burlington's environmental conservation and sustainable living values.
Similarly, Crowall is committed to sustainability beyond our products. We employ eco-conscious practices in our installation processes that reduce waste and carbon emissions.
Community Building through Playgrounds
Playgrounds serve as vital hubs of community engagement. Crowall has played an essential role in Burlington by providing safe, attractive playgrounds that foster bonding among its residents. We help to create spaces where families come together, neighbours meet each other, and friendships thrive.
Crowall strengthens Burlington's social fabric, cultivating a sense of unity and belonging for Burlington families. Families can rely on Crowall for safe play environments and to enrich their community experience.
Playgrounds and Property Values in Burlington
Playgrounds of quality in Burlington have an enormously positive effect on property values. Homes situated near parks and playgrounds like those provided by Crowall often fetch higher prices on the real estate market.
Families searching for homes in Burlington often consider access to safe and attractive playgrounds as a key factor when selecting neighbourhoods for purchase. Such facilities enrich the quality of life in local neighbourhoods, making them more appealing and desirable among potential homebuyers.
Other impacts of Crowall playground surface installation are.
Healthy Children: Playgrounds encourage physical activity among children. Kids with access to well-maintained play spaces are more likely to remain physically active and establish healthy habits.
Enhance Aesthetics: Crowall has designed its playground installations with aesthetic enhancement in mind so that their installations seamlessly complement their surroundings.
Related Article: Pickleball Court Installation: Why It's The Hottest Trend In Mississauga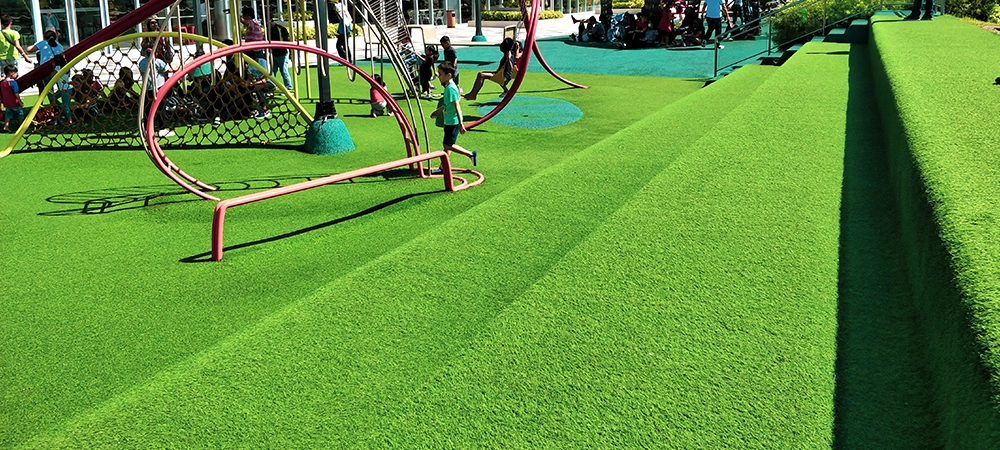 Professional Surface Construction Services in Ontario
Playgrounds in Burlington are an integral component of its culture and identity, so their upkeep, security and function fall under the collective responsibility of all residents. Providing safe environments is part of keeping them operating effectively for future generations.
With this article as a guide on playground surface installations, you can decide according to your preference. These surface types ensure the playgrounds remain inviting yet safe environments for their users.
At Crowall, we play an instrumental role in achieving Burlington's playground safety objectives.  We offer high-quality surfaces such as poured-in-place rubber, synthetic turf and rubber mulch.  Contact us at 1-416-951-4626 for more surface installations.